OUR MUSIC OUR SOUND by COLONEL RED aka NICHOLAS S ROMILLIE
Colonel Red hits hard with his latest TDR release 'Wireless Soldierz'. This 7-track EP underpins a force of musical nature, lyrically immersed in intimate affairs of the heart on one hand while balancing the scales of social injustice and inequalities on the other. 
Colonel Red's self dubbed 'Urban Soul Rock Sound' precedes him. His edgy spatialur elastic hip hop-esque funk drives his soul drenched soaring vocals to an all time high, taking us clear into orbit. We hear Rhodes and Wurlitzer keyboards, acoustic and rock guitars, sonic sounding synths, augmented string arrangements, deep and rich bass lines and fugue type drum sampling with hurtfully close vocal floods supporting Red's wailing blood thirsty lead vocals. 
A powerhouse of groove driven songs and a glean measure of potent steel crunch funk from the 'House of Colonel Red'!
released July 3, 2017 
Performed, written and produced by Colonel Red at the Tribal Rhymes Studio Suite 
Additional beat programming by C.O.N.E. for 'Wake' 
Special thanks to Ink Rebellion Music including Clio S. Anderaz, Ariana D'Ermo and Madison 
A&R by Marc Wallowy 
Design by Matt Lyon 
Mastering by Jan Ohlhorst
Longing to sing I sing for ever.. 
breaking the seal, while my cup runneth over 
peacefully I sleep when there is food on my stove 
plenty full I weep while I reap what I sew 
who was the stranger that gave blessings in my stead 
what was the story told by travellers while resting their weary heads 
when will the war end & the promise of peace begin 
who are the new settlers who wage war on the sinners sin 
change will come soon but fragile is the ground 
that we all must stand on many injured yet still standing proud 
I can only speak from my hearts heart felt way 
of being in this world a man that will fall then rise again.
DanceMassSphere' 
With every waking hour.. I long to hear Radical Rebel Music… 
When I dance I love to hear positive vibes, to sing along with a hook that touches inspires & draws upon fiery emotions 
feel the Drum & Bass tear a hole in the floor around me 
Breaking the chains to create a monad of joy Sexy sultry & Insane… is what DanceMassSphere truly is.. 
Sounds from the underground, vibration forming light.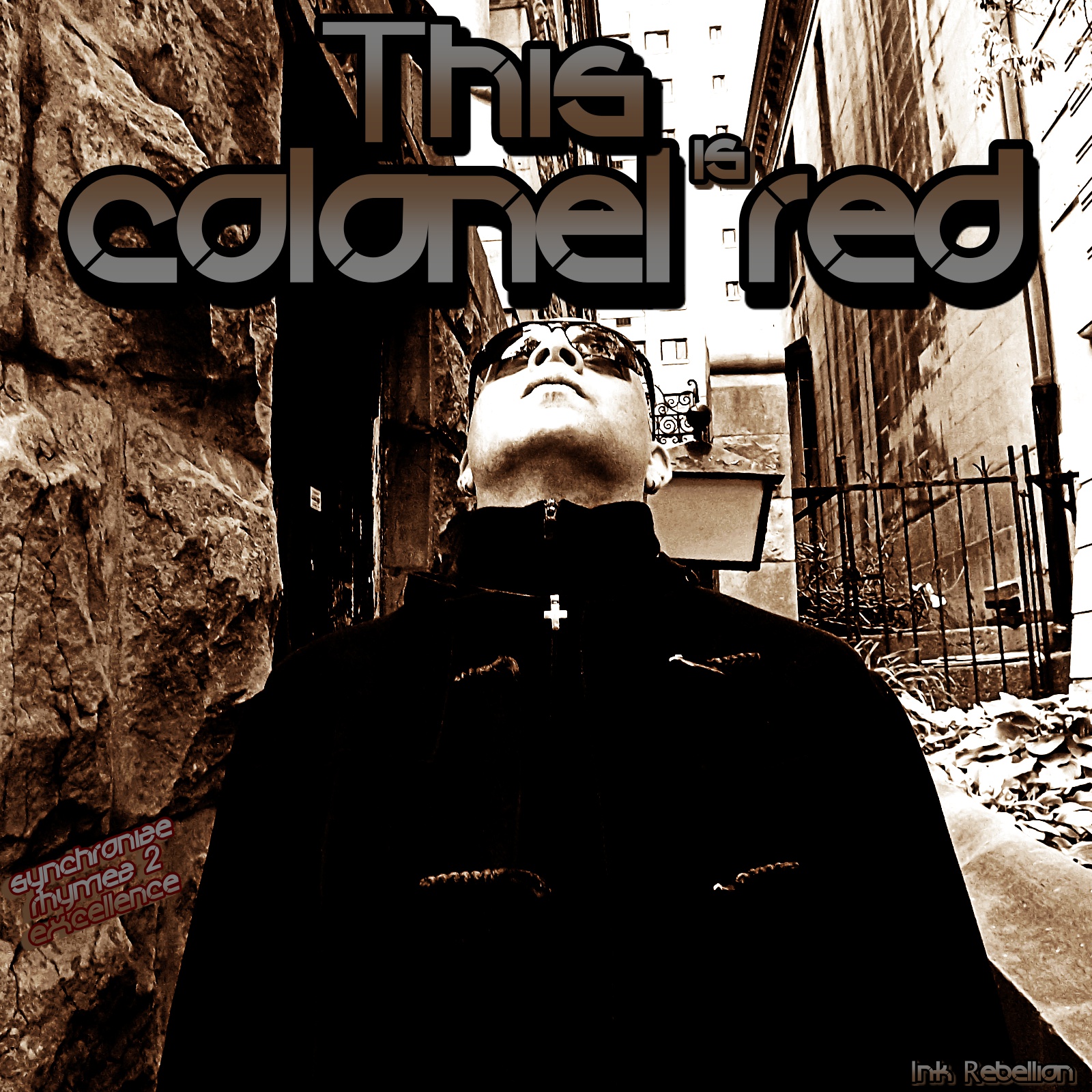 On the rise once again with Colonel Red's remarkable new album 'This is colonel red', set for release: 04.12.2015 on the 'Ink Rebellion' label. "Music brings out the best in me, music is the elixir I use to transform all that comes my way..
'This is colonel red' reflects the osmosis that takes place once Redz is at the helm! a riveting display of inspired harmonic rhythms & lyrical excellence.
This latest release from the 'Urban Neo Soul Rock' Giant, explodes without fear..
'This Is Colonel Red', an essential staging point on the journey of COLONEL RED as an incredible recording performing artiste, Redz continues to immerse as an uncompromising & totally unique musical force. Songs like - Nowhere to Hide / Walls / Tell Me Mr / Moving through Orbit & U Dunn Lost Ur Way,.. encapsulate the intoxicating purity of this incredible album. All songs & music - Written/Performed/Arranged/Produced/ Engineered/Mixed & Mastered by Colonel Red at the Tribal Rhymes Studio Suite for Ink Rebellion music.

THIS IS COLONEL RED 
album